The student organization develops an innovative—and impactful—mentorship program.
By Shelby Jarman.
Talley Ransil, like most incoming law students, felt a lot of stress as she began her time at the S.J. Quinney College of Law. She relied on an older student, Lauren Boone, to help navigate the ins and outs of law school.
"I got a lot of beneficial resources and connections from her outside of the structured resources at the school," she said. "I could be really upfront and honest with her."
When the COVID-19 pandemic hit, Ransil recognized that the incoming law students wouldn't have the opportunity to form those mentoring connections that she found so valuable. As the newly appointed president of the Women's Law Caucus (WLC), she felt a responsibility for making sure there was an avenue for finding mentors.
That's why Ransil created the WLC Mentorship Program. In it, first-year law students are matched with second- or third-year law students to help them begin to navigate the law school environment. In turn, second- and third-year law students are matched with local attorneys to begin preparing for their legal careers.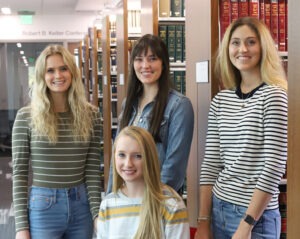 Members of the WLC jumped at this opportunity, and in just one year the program has grown to include over 100 mentors and mentees. The Women's Law Caucus even created two new mentorship program coordinator positions to facilitate and run the growing program.
"The WLC Mentorship Program is really meant to meet the needs of the mentoring relationship," said Brook Porter Coles, one of the mentorship program coordinators. "They can meet as frequently or infrequently as they want. It might be a needs-based relationship, where a mentee reaches out for help right before a midterm or an interview. Or it can be more formal, with regular meetings once a month."
"Our hope is that it becomes a genuine and long-lasting friendship," she added.
The response was enthusiastic—not only from the students, but from local attorneys as well.
"Everybody loves to share what they know," said Madeleine Whittier, also a mentorship program coordinator. "It's a nice opportunity for the attorneys to work with us, share all of their infinite wisdom, and then we get a chance to soak it all up and carry that forward into our careers."
Mentors and mentees fill out a questionnaire and are matched based on a large variety of factors, including career interests, background, identity, and more.
"You never know who that attorney can connect you with, even if they're working in a different field of law," Ransil said. "Maybe one day you decide to pivot and go in a different direction with your career, or maybe that person can help you get a job after graduation because they know someone important. I think it's important to be open to opportunities and know that these people are here to help."
As intimidating as the legal field can be, the WLC Mentorship Program is designed to be a safe space, where no question is too simple and no topic is off-limits.
"These attorneys have already indicated that they are here to help," said Porter Coles. "This is the safest space to start those conversations, confront those fears, and have a soft ground to land on as you navigate these legal spheres."
As the WLC Mentorship Program moves forward, the organization's leadership is putting a large focus on inclusivity. While the mission of the Women's Law Caucus is to provide support and community for women in the legal field, the WLC Mentorship Program can be a resource and a tool for everyone.
"While we absolutely cater our events and programs to providing that community for women and female-identifying folks, we want to provide those resources for everybody who wants to be here as well," said Madalin Rooker, current WLC president.
The WLC Mentorship Program wouldn't be possible without the enthusiastic participation of alumni and local attorneys. It's an opportunity to give back to the S.J. Quinney College of Law in a real, tangible way.
"I think that this program has filled a huge need," said Whittier. "We are so keenly aware of the amount of alumni and local attorneys that are excited to be involved and are so, so generous with their time. They wanted to give back, we just had to step up and build the program. And in terms of having a community feeling, we're so grateful for that."
The Women's Law Caucus hopes to continue to grow the WLC Mentorship Program, with plans in the works for more in-person networking events.
Interested in participating in the WLC Mentorship Program as a mentee or a mentor? Email the organization at sjqwlc@gmail.com to learn more.