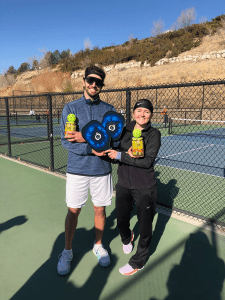 During the first year of law school, students usually get to know each other through a variety of networking events, study groups, and the traditional swearing-in ceremony at the end of orientation week. But with the social distancing and virtual events brought on by the COVID-19 pandemic, the class of 2023 found themselves feeling a bit estranged from their classmates.
That's why 1Ls Anna Paseman, Dylan Raymond, and Madalin Rooker decided to think outside the box to find an activity that was social, safe, and fun. A pickleball league was the perfect option.
"By playing pickleball, we could safely social distance while still spending time together," Paseman said. "We got to meet people we otherwise would have only known as faces on Zoom."
Pickleball, a paddleball sport that combines elements of badminton, table tennis, and tennis, is relatively easy to play. So when Paseman, Raymond, and Rooker extended the invite on the Class of 2023's Facebook page, pickleball players of all skill levels answered the call and showed up to the first round of games.
"Pickleball is a great game for everyone to play because the barrier to entry is low," Paseman said. "Anyone can pick up a racquet and learn the rules in 15 minutes. And it is a social game! That made it a great activity to get to know our classmates, especially during the pandemic. Everyone learned the rules, improved their skills, and had a lot of fun"
Every Wednesday throughout fall semester, a group of 15-20 1Ls would gather at the pickleball courts (colloquially referred to as "jars," since jars are where pickles belong) at the 11th Avenue Park for a few hours of good-natured pickleball competition.
"The 'one more game' syndrome always takes over," Raymond said. "Without fail, someone says 'one more game,' and people can't resist. We keep playing. And it's never just one more game."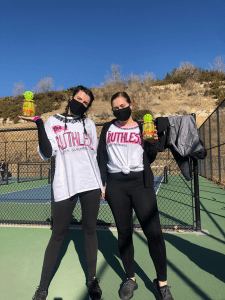 The 1L pickleball league culminated in a tournament at the end of fall semester, the 1st Annual Salty Jar Battle of the Courtroom Invitational. The prizes were jars of pickles (very fitting for pickleball) and were conferred upon Raymond and his wife Payton for besting all other pickleball pairings. 1Ls Paris Wagner and Aisea Odencrantz also received pickle jar prizes for their costumes, themed "the RuthLESS Bader Ginsburgs".
The 1L pickleball league is currently on hiatus due to the winter weather, but the plan is to start up again as soon as the weather is nice.
"I hope this weekly tradition continues throughout our law school careers," Raymond said. "Law school is demanding, and we need Wednesday pickleball—it's like recess but better."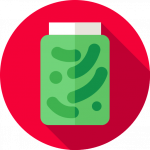 Why it's called Salty Bar
According to Anna Paseman, the students began to refer to the courts as "The Jar" because pickles come in jars. They then decided to name their tournament "The Salty Jar." This referenced not only that pickles are salty, but also the initials matched S.J. (as in S.J. Quinney, but they couldn't come up with a good Q word) 🙂