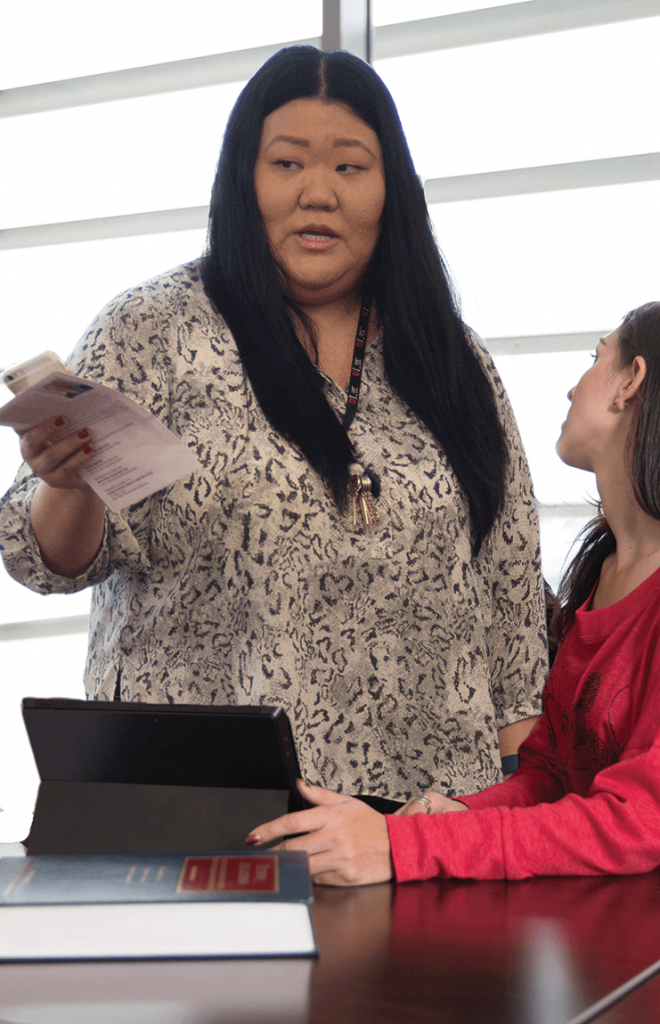 JoLynn Spruance didn't know exactly where her career path would lead her as a child growing up in California, but one thing mattered in all of the options to consider: finding a way to give back.
For the past 13 years, Spruance has done exactly that in serving as director of the College of Law's Pro Bono Initiative. The program has left a lasting impact on numerous College of Law graduates who've received real-world lawyering experience while volunteering to provide services for some of the most vulnerable and underserved populations in Utah under the watchful guidance of licensed attorneys.
Under her leadership, the program grew from a model where the college helped students find pro bono placements with attorneys in the community on a one-on-one basis, to a more robust organization that currently operates sites year-round that are staffed by our volunteer students and volunteer lawyer supervisors in Salt Lake City and Ogden. "PBI has developed and trained some of our most important future leaders that are committed to pro bono service and continue to solve these hard emerging legal problems because they have learned the importance of giving back," said Spruance, who will leave the College of Law to pursue new opportunities. at the close of the spring semester.
"Our legal community in Salt Lake City is tight knit. We all try to support and help each other," she added. As PBI prepares for a new era, those who've worked closest with Spruance emphasize the legacy she will leave behind as a skilled mentor able to bring out the best in law students and as a community organizer adept at bringing people together to achieve a goal of helping underserved populations.
"Having provided non-profit legal services for 30 years, it has been my experience that it doesn't matter how great the idea or the service, if you don't have the right person to administer the program it will never be successful. JoLynn was the "right" person to run the Pro Bono Initiative. I have worked with JoLynn since the inception of the Pro Bono Initiative and worked with her to make the family law clinic and the rainbow clinics a success. JoLynn is eternally optimistic and delight to work with – anytime an issue came up with a clinic, she worked with all the stakeholders to reach a resolution. She is a "tiger" when it comes to supporting and advocating for the students who volunteer for our clinics," said Stewart P. Ralphs, executive director of the Legal Aid Society of Salt Lake, who is a mentor of Spruance's and a close partner in the college's PBI efforts.
"JoLynn has enthusiastically encouraged countless students to sign up for our clinics and tirelessly recruited hundreds of attorneys to volunteer to supervise at the clinics. The result is that thousands of people have received free legal services and advice, students have gained tremendous knowledge and confidence to practice law and we attorneys have been able to "give back" to students and pro se litigants – not a bad legacy at that," he said.
"PBI has developed and trained some of our most important future leaders that are committed to pro bono service and continue to solve these hard emerging legal problems because they have learned the importance of giving back."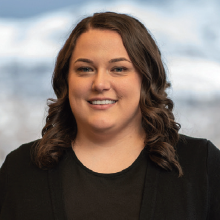 KATHERINE PEPIN
GRADUATED 2018
Role with PBI:
Community Legal Clinic Fellow 2017-2018
Current employment:
Clyde Snow & Sessions, P. C.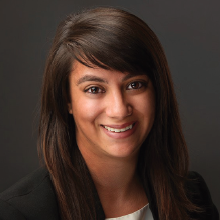 MELISSA MOEINVAZIRI
GRADUATED 2017
Role with PBI:
Community Legal Clinic Fellow 2016-2017
Current employment:
Perretta Law Office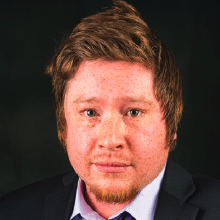 ADAM SAXBY
GRADUATED 2016
Role with PBI:
Peter "Rocky" Rognlie, Fellow 2015-2016
Current employment:
Equal Opportunity Consultant in Affirmative Action Office, U of U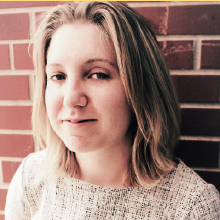 ADRIANNA ANDERSON
GRADUATED 2015
Role with PBI:
Peter "Rocky" Rognlie, Fellow 2014-2015
Current employment:
Supervising Attorney, Legal Assistance Of Western New York, Inc.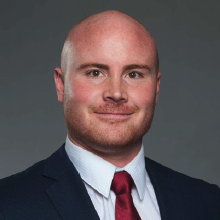 ERIC HEIER
GRADUATED 2017
Role with PBI:
Peter "Rocky" Rognlie Fellow 2016-2017
Current employment:
Associate Athletic, Director for Compliance and Student Success at Tarleton State University, Texas
TAYLOR SMITH
GRADUATED 2019
Role with PBI:
Community Legal Clinic Fellow 2018-2019
Current employment:
Judicial Clerk for the Honorable Trevor Atkin of the 8th Judicial District Court, Clark County, Nevada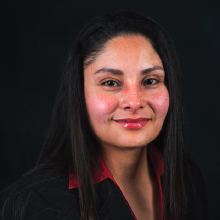 ISABEL MORENO
GRADUATED 2016
Role with PBI:
Community Legal Clinic Fellow 2015-2016
Current employment:
Associate Director for Admission and Financial Aid, College of Law U of U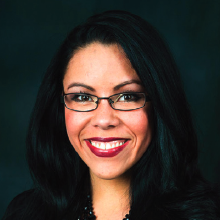 NUBIA PENA
GRADUATED 2016
Role with PBI:
Pro Bono Fellow 2015-2016
Current employment:
Director of Utah Division of Multicultural Affairs
A PATH TO ADVOCACY FOR PRO BONO SERVICE
Spruance grew up in Paradise, California, where her father practiced water law. A family connection in Salt Lake City prompted her to consider the University of Utah for college, where she graduated with a degree in family and consumer studies. Her initial work experiences were back in California, working with an organization called Loaves and Fishes that provides assistance to those experiencing homelessness in the Sacramento area. Spruance worked at the organization's Mustard Seed School, an initiative designed to keep kids' education consistent while their families were between permanent housing. Later, Spruance pursued a master's degree in gerontology at the University of Utah. Her career interests were piqued by an ad for an opening for a coordinator position at the College of Law under former Dean Scott Matheson.
Her father encouraged her to couple her passion for non-profits with the law, a place where there is often access to justice shortages for much of the population. She started with PBI at a time when there were two on-site clinics and a grassroots volunteer placement program. Dean Hiram Chodosh continued to expand legal sites for the program during his tenure from 2006 to 2013 as did former Dean Bob Adler, whose deanship ended last year.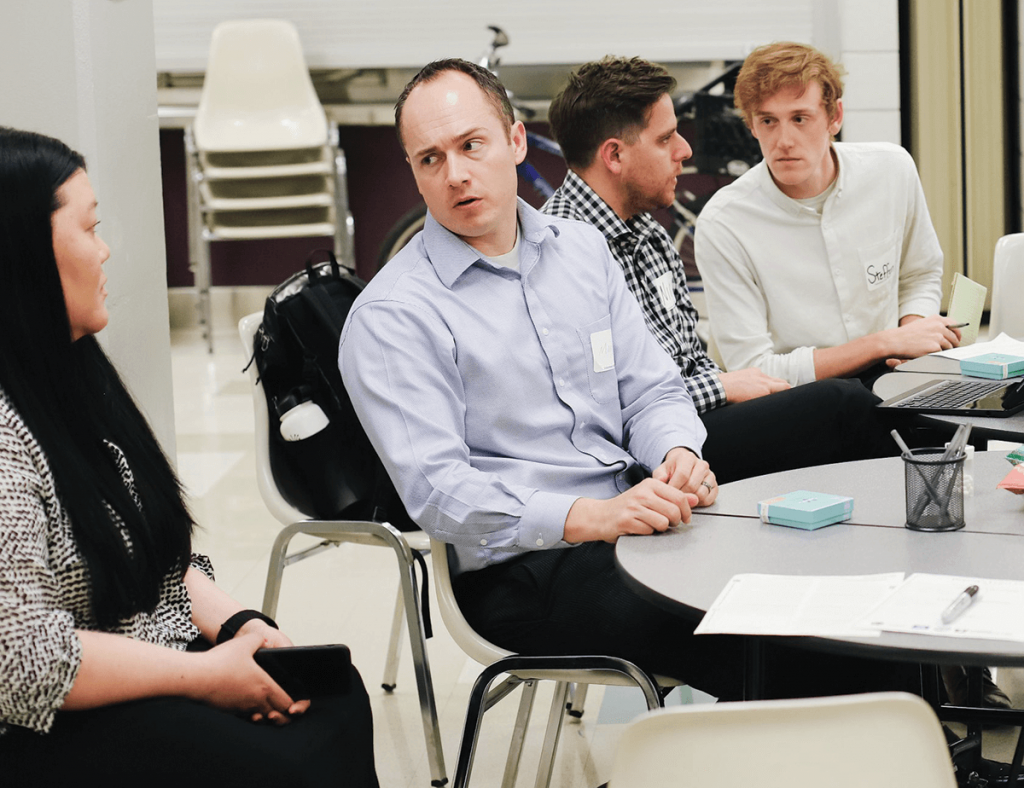 Today, PBI sponsors several sites in Salt Lake
City and Ogden that focus on specialty areas of law including American Indian law, debtors counseling, expungement, family law, medical legal help, rainbow law, street law and general community legal sites. The program's mission has evolved to encompass three goals: to provide skill building legal opportunities for students under the direct supervision of attorneys; to develop placements where alumni can volunteer, network and serve as mentors to law students; and to demonstrate the professional responsibility of those in the legal profession to provide pro bono legal services to the underserved in the community who otherwise would not have access to the justice system.
PBI provides an unparalleled opportunity for students to engage with and serve the community, while building valuable lawyering skills including cli-ent counseling, legal research, and document drafting. The College of Law strongly encourages all students to perform at least 50 hours of volunteer service during their law school careers. Students who meet this benchmark are presented with a Certificate of Service at graduation. PBI compliments the College of Law's changing experiential learning program, which students can enroll in for credit, versus the non-credit volunteer experience that comes with being a part of the PBI. The program has grown in funding and in community participation, in part due to Spruance's efforts, said Brett Ellsworth, manager of immigrant services for Latter-day Saint Charities, and the Welfare Department of The Church of Jesus Christ of Latter-day Saints.
"One of our immigrant services is an immigration and family Law legal clinic. Our collaboration with PBI and JoLynn is with Welfare Square, Sugarhouse and Ogden. Our legal clinics provide brief legal counsel and advice to immigrants and their families through a combined effort of law students, pro bono attorneys, and support/funding from the LDS church, said Ellsworth. He noted the strong impact the program has made on the immigrant population, noting the services fill a gap in the community and that a feeling of trust is fostered with immigrant families.
A NEW CHAPTER
As Spruance prepares for new career opportunities outside the College of Law, the program will temporarily be overseen by alumni Rob Jepson, who is an Access to Justice Director at the Utah State Bar and a PBI alumnus. In addition, alumnus Jonny Benson will take the lead with three community legal clinics. The COVID-19 pandemic will likely bring a host of new issues to PBI clinics in coming months. The services provided to the community have always shifted with needs, Spruance said.
"All of the sites have changed according to legal needs of community and the times that are in. Whoever takes the reins of PBI next will have a whole new set of interesting challenges – landlord tenant issues, the pandemic and other issues," she said. Much of PBI's success is due to an already strong presence of legal non-profits in the community to aid PBI's mission. Many alumni view the progress made under Spruance's direction as beneficial not only to the community, but to the law school's evolution.
"I consider the PBI as a signature project for the law school. It has been successful primarily because of Jolynn's efforts and earned the respect and affection of the LDS church and the community. I have personally attended the PBI in Salt Lake and found it to be very satisfying for several reasons. One is the opportunity and privilege it is to work closely with our law students for a couple of hours as they learn to appreciate the satisfaction of doing pro bono service. They are bright and enthusiastic and a credit to the school as they volunteer their time without expectation of school credit or other reward.
Just much needed service," said attorney Rod Snow, a former president of the Utah State Bar, who has worked with Spruance and PBI. Dean Elizabeth Kronk Warner praised Spruance's contributions to the law school and said the institution will continue to build on the progress she has made as the program moves into the future.
"JoLynn is truly a phenomenal person. Not only has she played a substantial role in developing an amazing program that benefits our students and our community – PBI, but she has created a very special community here at the College of Law. Numerous current students and graduates have shared stories with me about how JoLynn created a "safe space" at the College of Law where they could go for support (and snacks). She also helped numerous students prepare for the bar exam. Additionally, she is one of the nicest, most professional people I have had the pleasure of working with. She will be greatly missed," said Kronk Warner.
IN THEIR OWN WORDS
Res Gestae asked students and alumni to share stories about their experiences working with JoLynn Spruance and the Pro Bono Initiative. Here are a few responses.
"There are so many positive things that can be said about JoLynn and her legacy as the Pro Bono Initiative director that cannot adequately be expressed in this short statement. She genuinely cares about the community and has helped to develop many clinics that serve diverse groups across Utah. It is in her nature to be welcoming, inclusive and positive ... these traits have sparked passion in students and members of our legal community to give back and help countless people in need. She is an incredible mentor and a compassionate friend to so many because she genuinely cares about who you are as a person. Besides my subterranean library cubicle, I spent more time in her office than any other space on campus. I am personally indebted to her for her kindness, guidance & the opportunities that the Pro Bono Initiative created in my life. Overall, she exemplifies the spirit of a humanitarian and her legacy will continue to echo the ethos of what pro bono work is all about. Thank you Jolynn!"
— Tadd Dietz
---
"Hard to put into words the impact JoLynn has had on the legal community, the law school, and S.J. Quinney's students. People of her quality are few and far between."
— Eric Heier
---
"JoLynn is amazing and will surely be missed!"
— Eddie Prignano
---
"My name is Sinndy and I'm a pre-law leap student. During fall 2019 a requirement of my leap class was to volunteer at a legal site, so I picked the PBI program offered at the law school. I'll never forget how welcoming JoLynn was at my first clinic, she made me feel like I belonged. Over the semester she always reminded me of my strengths and how to overcome challenges. JoLynn is a very inspirational person and I wish her the very best on her new endeavors. Sad to see her leave but I am happy for this new chapter in her life."
— Sinndy Rios
---
"JoLynn is irreplaceable! She has positively impacted the lives of so many students!! Thanks for all your amazing service over the years!"
— Kim Hooper Paulding
---
"JoLynn is an institution! I am so grateful for all she has done in this role and I wish her very well."
— Alison Ann
---
"One of the law school's very best. Best wishes, JoLynn."
— Anneliese Booher
---
"My law school experience would have been so much less fulfilling without JoLynn and PBI. JoLynn reached out to me to work with her running the expungement clinic. I was awed by how much time she put in — how many evenings — and how many years she had been doing that. JoLynn not only invested in the clinics and their clients, but in her law student volunteers. She was always asking how my classes were going, and whether I was keeping my life in balance. In addition to looking out for the students, she somehow stayed on top of the details of all the different clinics and their needs. I felt overwhelmed just with one clinic. When law school was discouraging, JoLynn was always encouraging. And PBI gave you a glimpse of what could be after school."
— Emily Mabey Swensen