Since the beginning of the COVID-19 pandemic, everyone's lives have been disrupted in one way or another. One significant and deeply saddening disruption has been the cancellation of the law school's annual alumni awards dinner. It has been the school's privilege to recognize significant alumni and honorary alumni at each annual dinner. That privilege is now being transferred to this column, hopefully for the first, and only, time.
YOUNG ALUMNA OF THE YEAR
This year's Young Alumna of the Year is Amy Fowler. The criteria for selection of this award includes consideration of performance in the profession. Fowler was chosen for this award because of an amazing career in her short time as a lawyer.
Fowler practiced criminal defense at the Salt Lake Legal Defender Association for five years as a trial attorney prior to starting her own firm, FowlerVenable. Fowler has been active in the legal community since her graduation in 2011. For example, she is the co-founder of the LGBT & Allied Lawyers of Utah, is a Utah State Bar commissioner and was elected to be a Salt Lake City Councilwoman in 2017. Fowler also spent five years working and living with different communities in Guatemala and speaks Spanish fluently.
ALUMNUS OF THE YEAR
This year's Alumnus of the Year award recipients are Steve Clyde and Kent Scott.
The criteria for the selection of this award includes sustained or extraordinary service to the legal profession.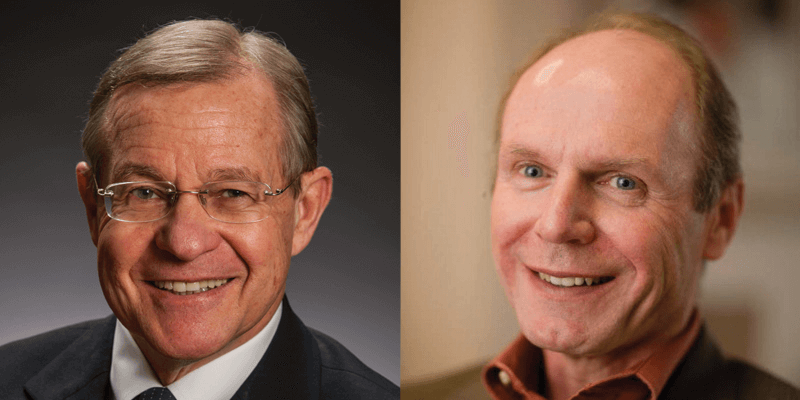 Clyde is vice president, director and shareholder at Clyde Snow, where he has specialized in natural resources law, including oil and gas, public land law, and mining law, with a primary emphasis in water law. Clyde has been active in the legal community throughout his career. He has served on the Utah Legislature's Water Task Force and on the Executive's Water Task Force since 2007. In addition to all his other public service, Clyde served tirelessly on the College of Law's Board of Trustees for many years, including a stint as chair and as an adjunct faculty member at the law school.
Scott is vice president and shareholder at Amy Folwer Babcock Scott and Babcock. Scott has 43 years of experience and has primarily been involved in the prevention and resolution of construction project disputes. But that is only the tip of the iceberg when it comes to Scott's contributions to the profession. Scott is a leader in the ADR community and worked closely with Jim Holbrook, a longtime College of Law professor, on ADR programs and service to the community. He has been active in Lawyers Helping Lawyers and served as a 12-step meeting coordinator, sponsor and mentor for attorneys, the homeless and the addiction communities. He has also acted as pro bono counsel for the Calvary Baptist Church by providing contributions and support to the congregation and as pro bono counsel to the Skaggs Memorial Church. Last, and possibly most meaningful to the law school, each and every year Scott donates money to the law school to pay for 10 students to attend the alumni dinner. He does this completely voluntarily and without expecting any recognition. As is true of so many College of Law alumni, Clyde and Scott contribute silently and selflessly. Their contributions make such a significant difference that even though they don't expect recognition, it is an honor to recognize them and ensure that their service is given the attention it deserves.
HONORARY ALUMNA OF THE YEAR
Utah State Rep. Patrice Arent is this year's Honorary Alumna of the Year. Arent is a graduate of the University of Utah and Cornell Law School. She has devoted most of her professional life to public service, serving for almost 20 years in the Utah Legislature as a Democrat representing Millcreek. Most tellingly, in this era of conflict, Arent is widely known for her ability to collaborate with diverse groups to solve serious problems facing our state.
Among other areas, Arent has been active in two highly significant issues: clean air and Utah's Newborn Safe Haven law. Her clean air bills have been enacted and began the crucial work to improve Utah's air quality. Her Newborn Safe Haven law has saved an estimated 40 babies and the stories about their lives are truly heartwarming. Arent is the founder and co-chair of the Legislature's bipartisan Clean Air Caucus and co-chair of the House Ethics Committee. She has also passed legislation to make it illegal to engage in price gauging during an emergency, something that is highly relevant in today's world.
Prior to her legislative service, Arent was a division chief in the Utah Attorney General's Office, worked in a private law firm, and served as associate general counsel to the Utah Legislature. She has also taught as an adjunct at the College of Law.
Arent is not only well-deserving of the award, she is a truly remarkable woman and someone we are honored to recognize as this year's Honorary Alumna of the Year.